AN
INQUIRY INTO
THE INTEGRITY
OF THE
GREEK VULGATE
OR
RECEIVED TEXT OF THE
NEW TESTAMENT
IN WHICH THE GREEK MANUSCRIPTS ARE
NEWLY CLASSED, THE INTEGRITY OF THE
AUTHORIZED TEXT VINDICATED, AND THE
VARIOUS READINGS TRACED TO THEIR
ORIGIN.
by Dr. Frederick Nolan (1784-1864 A.D.)
A Presbyter of the United Church,
London.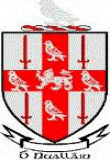 Nolan Family Coat of Arms
PRINTED FOR F. C. AND J. RIVINGTON
NO. 62, ST. PAUL'S CHURCHYARD;
By R. & R. Gilbert, St. John's Square, Clerkenwell.
Content
Chapter 1 Chapter 2 Chapter 3
Chapter 4 Chapter 5 Chapter 6